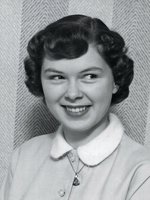 Eleanor Tolly
Eleanor E. Tolly, 77, formerly of Brick, passed away on Friday, July 28, 2017 at Middletown Home, Middletown, PA. Daughter of the late Charles and Marion Errickson, she was a graduate of Manasquan High School. Eleanor was a secretary for JCP&L and Fort Monmouth before becoming a homemaker. She was a member of St. Paul's United Methodist Church, Herbertsville. Along with her husband, Charles, Eleanor lived in Roxbury, NY, in their retirement years.
She was predeceased by her husband, Charles R. Tolly, Sr. in 2014, and her son, Charles "Chip" Tolly, Jr. in 2013. Eleanor is survived by her daughter, Ann Elizabeth Ebersole and her husband, Terry of Marietta, PA; three grandchildren, and one sister, Patricia E. Dore of Henrico, NC.
Visitation will be held at the Clayton & McGirr Funeral Home, 100 Elton-Adelphia Road (Route 524), Freehold Township on Friday, August 4, 2017 from 5:00 to 7:00 PM. Relatives and friends are invited to attend her 10:00 AM funeral service on Saturday, August 5, 2017 at the funeral home. Interment will follow in Monmouth Memorial Park, Tinton Falls. A Memorial Service will be held at the chapel of the Middletown Home on August 17, 2017 at 10:00 AM. Memorial contributions in Eleanor's name may be made to the Alzheimer's Association, PO Box 96011, Washington, D.C. 20090-6011. You can designate your gift either to research or the Harrisburg, PA chapter. For information, directions or condolence messages to the family, visit www.claytonfuneralhome.com.