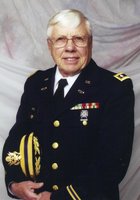 Henry Paul
Henry Neill Paul, III, 88, of Freehold Township passed away on Thursday, July 27, 2017 at Applewood Estates. Neill was born August 30, 1928, the son of Henry Neill Paul, Jr. and Marianne Harris Paul. Growing up in Chestnut Hill, Philadelphia, PA, he graduated from The William Penn Charter School. Neill obtained his Baccalaureate Degree from Bowdoin College, and his Masters from the University of Maine before completing all course work requirements for his PhD from Penn State in Chemical Engineering.
After college he was drafted into the Army. Starting as a Private, Neill received a direct commission and rose to Lt. Col. He served in the Chemical Corps as a Nuclear Depolyment Officer and became President of the New Jersey Branch of the Reserve Officers Association.
Following active duty, Neill worked at a number of companies, including Lockheed Martin where he helped develop low observable coatings that enabled military planes to go undetected.
He had many hobbies including painting, building and restoring furniture, as well as photography. Neill had both a private and a commercial pilots license and enjoyed his planes, motorcycles and sports cars.
While he volunteered at Habitat for Humanity, the thread that connected his life experiences was his love of music. During his lifetime, he played a variety of instruments and sang in several choirs.
Neill is survived by two daughters, Letitia Landreth Paul Guenther (Michael) of Neptune, and Marianne Harris Bertolet (Mark) of Pittsburgh, PA; one grandson, Zachary Luis Guenther; two granddaughters, Elise and Claire Bertolet; one brother, C. Marshall Paul of Newtown, PA; one sister, Anne Paul Streeter of West Hartford, CT; his lifelong friend and companion, Helen Anders Kho; and many nieces and nephews.
A Memorial Service will be held at the Unitarian Universalist Congregation of Monmouth County, on Saturday, August 26, 2017 at 11:00 AM. A service of interment will be held at the discretion of the family. In lieu of flowers, donations may be made to Unitarian Universalist Congregation of Monmouth County, 1475 W. Front Street, Lincroft, NJ 07738. Arrangements were entrusted to the Clayton & McGirr Funeral Home, Freehold Township, NJ. For information, directions or condolence messages, visit www.claytonfuneralhome.com.