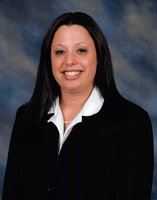 Kristin Galary
Kristin N. Galary, 36, of Howell passed away at home on Thursday, July 27, 2017. Born in Hackensack, she lived in Elmwood Park before moving, with her family, to Howell in 1985. A graduate of Howell High School, Kristin was a flight attendant for USA 3000 Airlines, attended Mercer County Community College, worked in the funeral industry and was a long time server for Perkins Restaurant, Freehold Township. Kristin had a passion for music. She was involved in the high school choir, color guard and played the cello. She enjoyed attending comedy shows. Kristin's greatest love and devotion was to her son.
She was predeceased by her mother, Maureen Galary, last year. Kristin is survived by her father, Harris S. Galary of Howell; her sister, Shannon M. Galary of East Stroudsburg, PA; her son, Adrian Harris Godbolt; and Kristin's boyfriend, Alonzo Godbolt of Howell.
A visitation will be held at the Clayton & McGirr Funeral Home, 100 Elton-Adelphia Road (Route 524), Freehold Township on Tuesday, August 1, 2017 from 4:00 to 8:00 PM. Relatives and friends are invited to attend her 9:30 AM Funeral Mass on Wednesday, August 2, 2017 at the Church of St. Veronica, 4215 Route 9 North, Howell. Burial will be private. For information, directions or condolence messages to the family, visit www.claytonfuneralhome.com.