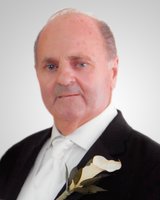 Philip De Pasquale
Philip De Pasquale, 76, of Freehold Township passed away at the University Medical Center of Princeton, Plainsboro Township on Thursday, August 3, 2017. He was born in Rodi Milici, Province Messina, Italy and moved to the United States in 1958. Philip had lived in Queens, Brooklyn, Staten Island, and Manalapan before settling in Freehold Township. He retired in 2002 as the owner and operator of P&F Iron Works, Staten Island. Prior to that, Philip owned Brooklyn General Iron Works. He was a parishioner of the Co-Cathedral of St. Robert Bellarmine, Freehold Township. Philip had a passion for cooking, especially clams. He enjoyed tending to his vegetable garden, fig trees, tomatoes, and most importantly his cucuzza. Philip was a designer, creator, and fixer of everything to perfection.
He was predeceased by his brother, Francesco De Pasquale. Philip is survived by his wife of 48 years, Antonia De Pasquale; daughter, Maria Freschi and her husband, Marc of Millstone; son, Carmelo De Pasquale and his wife, Jenna of Verona; grandchildren, Vincenzo, Dante, and twins, Victoria and Gianni; brother, Salvatore De Pasquale of Italy; and sister, Pina De Pasquale and her husband, Carmelo of Italy.
Visitation will be held at the Clayton & McGirr Funeral Home, 100 Elton-Adelphia Road (Route 524), Freehold Township on Sunday, August 6, 2017 from 12:00 to 4:00 PM. Relatives and friends are invited to gather at the funeral home on Monday, August 7, 2017 at 9:00 AM for the procession to his 10:00 AM Funeral Mass at the Co-Cathedral of St. Robert Bellarmine, 61 Georgia Road, Freehold. Entombment will be in St. Gabriel´s Cemetery & Chapel Mausoleum, 549 Newman Springs Road (Route 520), Marlboro. For those who desire, contributions may be made in Philip's name to Santuario Maria SS. Ma del Tindari, Conto Corrente Postale #201988, 98060, Tindari, ME. For directions, information or condolence messages to the family, visit www.claytonfuneralhome.com.