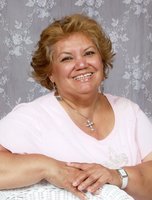 Aqueda Portalatin
Aqueda Portalatin, 73, of Howell passed away at home on Friday, August 11, 2017. Born in Puerto Rico, she was raised in Brooklyn and lived in Staten Island before moving to Howell two years ago. Aqueda worked hard as an administrator at Pace University, New York City. She enjoyed knitting, shopping and watching movies. Aqueda's greatest past times were spent with her grandchildren, cooking traditional Puerto Rican meals, and taking girls trips with her daughters.
Aqueda is survived by her daughters, Gina Lombardo and her husband, John of Staten Island, and Giselle Potencion and her husband, Abraham of Howell; and her grandchildren, Fallon, Lundyn Rose, Kiyal and Kalum.
Relatives and friends are invited to attend her 9:30 AM Memorial Mass on Thursday, August 17, 2017 at the Church of St. Veronica, 4215 Route 9 North, Howell. All arrangements are under the direction of the Clayton & McGirr Funeral Home, Freehold Township. For information, directions or condolence messages to the family, visit www.claytonfuneralhome.com.