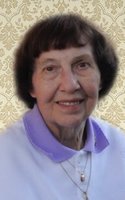 Doris A. Megill
Doris A. Megill, 89, of Freehold Township passed away on Saturday, December 16, 2017 at CentraState Medical Center, Freehold Township. Born in West Caldwell, she lived in Manalapan before settling in Freehold Township in 1976. Doris worked at 3M Company for five years until her retirement in 1964. She was an avid baker and perfectionist. Doris adored her family, and with her perfect penmanship, she will be remembered as the family record keeper and for the beautiful letters she wrote with great care.
She was predeceased by her husband, Donald "Rusty" Megill in 2011; brother, Wilson F. Ekdahl in 2016; and sister, Frances Breslin in 2009. Doris is survived by her brothers, Jack E. Ekdahl and Paul H. Ekdahl both of Freehold Township; sisters, Erma Cornell of Hillsboro, Hazel Vogel of AZ, Lillian Patrick of Manalapan, and Joan Iverson of Freehold Borough; sister-in-law, Vera Conover of Wall; and many nieces and nephews.
Visitation will be held at the Clayton & McGirr Funeral Home, 100 Elton-Adelphia Road (Route 524), Freehold Township on Tuesday, December 19, 2017 from 3:00 to 7:00 PM. Relatives and friends are invited to attend her 10:30 AM Funeral Service on Wednesday, December 20, 2017 at the funeral home. Interment will follow in Old Tennent Cemetery, Manalapan. In lieu of flowers, memorial contributions in Doris' name may be made to the Freehold First Aid Squad, 16 Spring Street, Freehold, NJ 07728. For information, directions or condolence messages to the family, visit www.claytonfuneralhome.com.