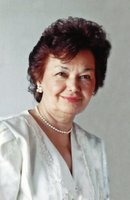 Gloria Trammo
Gloria Trammo, 92, of Howell passed away peacefully at home on Monday, December 25, 2017. She was born and raised in Brooklyn and had lived in Queens before settling to New Jersey in 2011. Gloria worked as a sales representative for Macy's for 25 years. She loved spending time at the beach and tending to her tomato garden. A true animal lover, Gloria was always looking after and feeding the neighborhood cats.
Gloria was predeceased by her husband, Joseph Trammo in 1992 and her son, John Trammo in 1990. She is survived by her son, Donald Trammo of Pennsylvania; daughter, Rhonda Franzese of Manalapan; and granddaughter, Caroline Franzese of Manalapan.
A graveside service will be held on Friday, December 29, 2017 at 11:00 AM in Maplewood Cemetery and Chapel Mausoleum, 169 West Main Street, Freehold. For information, directions, or condolence messages to the family, visit www.claytonfuneralhome.com. Arrangements by Clayton & McGirr Funeral Home, 100 Elton-Adelphia Road (Route 524), Freehold Township.