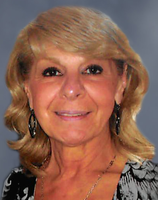 Dolores E. Bazzurro
Dolores E. Bazzurro, 75, of Staten Island passed away at her son's home surrounded by her family on Tuesday, December 26, 2017. She was born in Brooklyn and had moved to Staten Island 50 years ago. Dolores was a realtor and the owner of JTB Realty in Westerleigh, Staten Island for 45 years where she developed lifelong friendships with her landlords and tenants. She enjoyed traveling with her friends and spending time with her granddaughters, especially attending their dance recitals.
Dolores is survived by her son, John Bazzurro and his wife, Dawn of Freehold Township; granddaughters, Jenna and Alexa Bazzurro of Freehold Township; brother, Daniel Fabiani of Grasmere, Staten Island; sister, Marie Rizzo of Florida; and two nephews.
Visitation will be held at the Clayton & McGirr Funeral Home, 100 Elton-Adelphia Road (Route 524), Freehold Township on Thursday, December 28, 2017 from 5:00 to 9:00 PM. Relatives and friends are invited to gather at the funeral home on Friday, December 29, 2017 at 9:00 AM for the procession to her 10:00 AM Funeral Mass at the Co-Cathedral of St. Robert Bellarmine, 61 Georgia Road, Freehold Township. Entombment will follow in Marlboro Memorial Cemetery & Mausoleum, 361 Highway 79, Morganville. For information, directions, or condolence messages to the family, visit www.claytonfuneralhome.com.