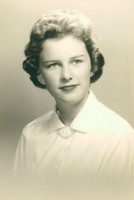 Marjorie Lee Weidlich
Marjorie Lee Weidlich, 74, of Farmingdale passed away on Saturday, December 30, 2017 at Jersey Shore University Medical Center, Neptune. She was born in Neptune, raised in Freehold, and had lived in Kannapolis, NC for the past 27 years before settling in Farmingdale in October. Marjorie worked as a title searcher for Chelsea Title in Freehold before becoming a server for K&W Cafeteria in North Carolina. She was an avid reader as well as a member of the literary guild.
Marjorie was predeceased by her daughter, Pamela Kouterick in 2017; son, Dwayne McManness in 1985; and her canine companion, Putt. She is survived by her daughters, Gwen Kish of Farmingdale and Nanette Stewart of DeBary, Florida; 10 grandchildren; 4 great grandchildren; a brother, Eden "Dan" Reed, Jr. and his wife, Pat of Freehold Township; and 2 nieces.
A funeral service will be held at the First Assembly of God Church, 272 Jackson Mills Road, Freehold on Saturday, January 6, 2018 at 10:00 AM. Interment will follow in Adelphia Cemetery, Adelphia. Arrangements by Clayton & McGirr Funeral Home, Freehold Township. For information, directions, or condolence messages to the family, visit www.claytonfuneralhome.com.