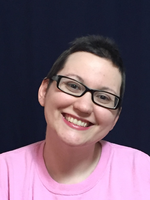 Maureen E. O'Brien
Maureen E. O'Brien passed away peacefully after a 3-year battle with cancer. Born in Summit, she grew up in North Plainfield. She moved to Bound Brook with her parents and graduated in 2006 from Bound Brook High School. Maureen was a member of DECA at Somerset County Vocational School. She worked for Shop-Rite in Bound Brook for 10 years where she was loved by many co-workers and customers. She enjoyed playing games, reading, spending time with her nephews, and caring for sister's dog, Shadow.
Maureen endured many battles over the last 3 years with cancer, but always remained positive. She put other people first and was the true definition of selflessness. Maureen will be remembered for her sweet smile, and love for her family.
She was predeceased by her father, Dennis O'Brien. Maureen is survived by her mother, Colleen O'Brien; her sister and brother-in-law, Kelly and Shaun Reilly; her beloved nephews Andrew and Aiden Reilly; and many aunts, uncles and cousins.
Arrangements were under the direction of the Clayton & McGirr Funeral Home, Freehold Township. Cremation was private. A Celebration of Life luncheon will be held on Saturday, February 3rd, 2018 from 12:00 to 3:00 PM at Freehold Township Independent Fire Company, 30 Siloam Road, Freehold, NJ 07728. In lieu of flowers, donations can be made in Maureen's name to the American Cancer Society, 2310 Route 34, Suite 1D, Manasquan, NJ 08736. For information or condolence messages, visit www.claytonfuneralhome.com