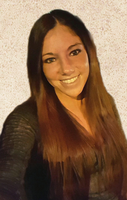 Taylor Michele Gandino
Taylor Michele Gandino, 29, of Freehold Township passed away suddenly on Sunday, January 7, 2018 at Ocean Medical Center, Brick. She was born in Queens and was a lifelong resident of Freehold Township. A graduate of the Freehold Township High School Class of 2006, she attended Rutgers University majoring in Psychology. More than anything, Taylor loved her family, and possessed a heart of gold. She was a good friend to all who knew her, had a wonderful sense of humor, and loved to laugh. She enjoyed singing and knew all the words to Moulin Rouge. Taylor was a gentle yet strong young woman with an infectious smile, and was the greatest big sister. Her absence in this world will be felt every moment of every day.
She was predeceased by her cousin and guardian angel, Lisa Gandino in 2016; grandparents, Chris and Eleanor Prestholm, grandparents, Thomas and Madeline Martin; and grandfather, Henry "Bob" Gandino; and by her fur brothers, Scooter and Boots Gandino. Taylor is survived by her parents, Guy and JoAnn Gandino; sister, Nicole Gandino and her fiance, Patrick Walter ; aunts and uncles, Mark and Maureen Gandino, Douglas and Lorinda Gandino, Patricia and Michael Shapiro, and Vincent, Sr. and Helen Gandino; and cousins, Mark Anthony, Danielle Leigh, Justin, Jennifer, Michael, Erica, Christina, Matthew Thomas and Vinny, Jr.; niece, Ellie Gandino; and boyfriend, Zachary Gershonowitz.
Visitation will be held at the Clayton & McGirr Funeral Home, 100 Elton-Adelphia Road (Route 524), Freehold Township on Wednesday, January 10, 2018 from 5:00 to 9:00 PM. Relatives and friends are invited to attend her 10:00 AM Funeral Mass on Thursday, January 11, 2018 at the Co-Cathedral of St. Robert Bellarmine, 61 Georgia Road, Freehold Township. Interment will be private. For information, directions or condolence messages to the family, visit www.claytonfuneralhome.com