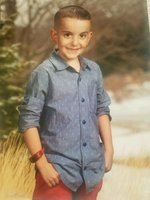 Jake Honig
Jake Honig, 7, passed away peacefully on Sunday, January 21, 2018 after a valiant battle with cancer. He was born in New Brunswick and was a lifelong resident in Howell. This young man was an inspriration to all who knew or read about him. He was known as The Tank because of the strength he showed during the years he fought cancer. An old soul with a positive spirit, he was made an honorary police officer in 2017. Jake was a 2nd grader at Land O' Pines whose favorite food was Chick Fil A and a Wendy's frosty. A huge hip hop fan, he took dance lessons with his sister at New Movement Dance School. A Golden State Warrior fan, Jake was fortunate enough to have met Steph Curry. He loved playing PlayStation and Nintendo Switch. Jake was a fantastic big brother and his sister was with him every step of the way through his illness. The beautiful memories sustain his family as they deal with his passing, and they feel so grateful and blessed to have had him.
He was predeceased by his maternal grandfather, Arlindo DeAlmeida, Jr. in 1995. Jake is survived by his loving and heartbroken parents, Michael and Janet Honig; sister, Gianna Honig; paternal grandparents, Tim and Sharon Honig of Old Bridge; maternal grandmother, Ofelia DeAlmeida of Old Bridge; paternal great grandmother Josephine DeChiara of Queens, NY; maternal great grandparents, Arlindo and Nazara DeAlmeida of Jackson; maternal great grandmother, Odete Noguiera Cerca of Old Bridge; godfather and uncle, Dan DeAlmeida and his wife, Stacey of Marlboro; godmother and aunt, Stephanie DeAlmeida of Old Bridge; and cousins, Sophia, Olivia and Alexa.
Visitation will be held at the Clayton & McGirr Funeral Home, 100 Elton-Adelphia Road (Route 524), Freehold Township on Thursday, January 25, 2018 from 3:00 to 7:00 PM. Relatives and friends are invited to attend his 11:00 AM funeral service on Friday, January 26, 2018 at the funeral home. Everyone is encouraged to wear Golden State Warriors apparel or their team colors, gold and blue. Feel free to get creative by wearing a jersey, hat, scarf or sweater, or dress up if you feel more comfortable while keeping with the theme.
His family wishes to thank the community for their outpouring of support during his illness, and the doctors and nurses who helped him in his hard-fought battle.
For those who desire, memorial contribuitions in Jake's memory may be made to the Frances Foundation for Kids Fighting Cancer, 8 Bryce Road, Holmdel, NJ 07733, Ashley Lauren Foundation, 309 Morris Avenue, Spring Lake, NJ 07712, Kick Cancer Overboard, 50 Atlantic Avenue, Long Branch, NJ 07740, The Believe Project, 4 Waycake Drive, Ocean, NJ 07712 or Squan-A-Thon, Manasquan High School, 167 Broad Street, Manasquan, NJ 08736.
For information, directions or condolence messages to the family, visit www.claytonfuneralhome.com #belikejake