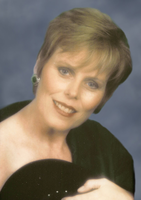 Carole J. Priccaciante
Carole J. Priccaciante, 67, of Womelsdorf, PA passed away on Sunday, January 28, 2018 surrounded by her loving family at her daughter's home in Matawan. She was born and raised in Staten Island and had moved to Howell in 1977 to raise her family. Eventually, Carole went to work for the Howell Township Police Department where she made many friends and met her soulmate and future husband, Gary Priccaciante. Carole and Gary retired to Virginia in 1993 and later settled in Womelsdorf, PA to be closer to their grandchildren.
Carole was predeceased by her husband, Gary Priccaciante and her father, Charles Winant. She is survived by her daughter, Sharon Carroll of Matawan and her husband, Jim; her daughter, Gail Hall of Howell Township; grandchildren, Chelsea and Madison; mother, Margaret Truch of Jackson; brothers, Charles Winant of Horsehead, NY, and Robert Winant and his wife, Maria of Sea Girt; and many nieces, nephews, cousins, and dear friends.
A visitation will be held at the Clayton & McGirr Funeral Home, 100 Elton-Adelphia Road (Route 524), Freehold Township on Wednesday, January 31, 2018 from 4:00 to 8:00 PM. Relatives and friends are invited to gather at the funeral home on Thursday, February 1, 2018 at 8:30 AM for the procession to her 9:30 AM Funeral Mass at the Church of St. Veronica, 4215 Route 9 North, Howell. Interment will be private. In lieu of flowers, memorial contributions may be made in Carole's name to Autism Speaks, 1060 State Road 2nd Floor, Princeton 08540. For information, directions, or condolence messages to the family, visit www.claytonfuneralhome.com.