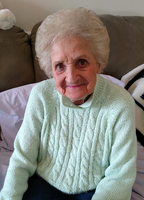 Florence Marie Davis
Florence Marie Davis, 90, of Lakewood passed away on Tuesday, January 30, 2018 at Ocean Medical Center. She was born and raised in Hillside, settling in Lakewood in 2012. Florence and her husband, Harold, owned and operated the family business, Step'n Cleaners in Newark. She enjoyed listening to polka music and visiting the Jersey Shore. Florence loved spending time with her family and extended family.
Florence was predeceased by her husband of 52 years, Harold Davis; four brothers; and a sister. She is survived by her children, Luann Clarkson of Lakewood and Glenn Davis and Dianne Zampino of Sarasota, Florida; grandchildren, Patty, Leigh, and Tyler; and many loving nieces, nephews, great nieces, and great nephews.
A visitation will be held at the Clayton & McGirr Funeral Home, 100 Elton-Adelphia Road (Route 524), Freehold Township on Thursday, February 1, 2018 from 4:00 to 8:00 PM. Relatives and friends are invited to gather at the funeral home on Friday, February 2, 2018 at 9:00 AM for the procession to her 10:00 AM Funeral Mass at the Church of St. William the Abbot, 2740 Allenwood Lakewood Road, Howell. Interment will follow in Gate of Heaven Cemetery, 225 Ridgedale Avenue, East Hanover. For information, directions, or condolence messages to the family, visit www.claytonfuneralhome.com.