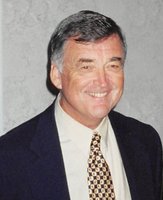 Rudolf O. Schmid
Rudolf O. "Rudy" Schmid, 81, of Freehold Township, NJ and Highland Beach, FL passed away peacefully at home surrounded by family on Friday, February 2, 2018. Originally from Irvington, he later resided in Teaneck and Paramus before moving to Monmouth County where he served proudly for 16 years on the Manalapan Board of Adjustment. More recently, he was a resident of Riviera in Freehold Township. A 1958 graduate of Rutgers University, Rudy was a member and officer of Zeta Psi fraternity. During his 40 year sales career at 3M Company, Minneapolis he earned Masquers Club designation an unprecedented number of times. He enjoyed many lasting friendships as a mentor for young salespeople.
The champion of grandfathers, "Pa-Pa" always participated in his grandchildren's activities, whether at the beach, on a ski slope or on the newest coaster at any amusement park. He enthusiastically coached his grandson's Little League team for many years. He loved many genres of music. Everything from Rolling Stones to classical was piped throughout the house at the highest possible volume. He will be remembered as a generous man who contributed anonymously to many and put everyone before himself.
He was predeceased by his son, Michael Schmid in 1996. Rudolf is survived by his wife with whom he would have celebrated 60 years in September, Janet Deubert Schmid; daughters, Susan Winger and her husband, Brian of Indianapolis, IN, and Nancy Kelly-Wagner and her husband, Gary of Freehold; grandchildren, Sarah Blazincic and her husband, Mark of Charleston, SC, Patrick Kelly of Lafayette, IN, Kaitlyn Kelly of Columbus, OH, and Allison Fowler of Bloomington, IN.
All services were private and under the direction of the Clayton & McGirr Funeral Home, Freehold Township. Memorial contributions in Rudy's name may be made to Fulfill (formerly The FoodBank of Monmouth and Ocean Counties), 3300 Route 66, Neptune City, NJ 07753 or the Disabled American Veterans, Post Office Box 14301, Cincinnati, OH 45250-0301. For information or to offer condolence messages to the family, visit www.claytonfuneralhome.com.
.