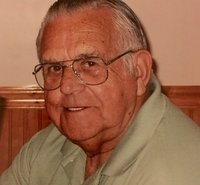 Robert W. Morgan, Sr.
Robert W. Morgan, Sr. 85, of Farmingdale passed away on Wednesday, February 7, 2018 at Jersey Shore University Medical Center, Neptune. Bob was born in Farmingdale and was a lifelong resident. After serving in the United States Army during the Korean War, Bob worked at Shore Marine in Lavalette and then for Freehold Township Public Works Department. He was the President of Farmingdale Evergreen Cemetery and was actively involved in his community. Bob was also a life member and past President of the Howell Township Lions Club, and and lifetime member of the Farmingdale Historical Society.
He was predeceased by his wife, Eileen Morgan; sons, Robert "Abe" Morgan, Jr. and John "Jay" Morgan; two brothers; and four sisters. Bob is survived by his son, Michael "Mike" Morgan and his wife, Rose "Tulip" of Farmingdale; daughters, Cindy Jennings and Karen Morgan and her partner, Eileen Turner, both of Howell; thirteen grandchildren; six great grandchildren; daughter-in-law, Debbie Blaser of Freehold; and brother, Francis Morgan of Florida.
Visitation will be held at the Clayton & McGirr Funeral Home, 100 Elton-Adelphia Road (Route 524), Freehold Township on Monday, February 12, 2018 from 4:00 to 8:00 PM. Relatives and friends are invited to attend his 11:00 AM funeral service at the funeral home on Tuesday, February 13, 2018. Interment will follow in Farmingdale Evergreen Cemetery. For those who desire, memorial contributions in Bob's name may be made to the Howell Township Lions's Club, 44 Main Street, Farmingale, NJ 07727. For information, directions or condolence messages to the family, visit www.claytonfuneralhome.com