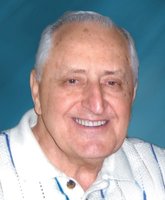 George S. Schaaf
George S. Schaaf, 80, of Toms River passed away on Thursday, February 8, 2018 at Community Medical Center, Toms River. He was born and raised in Jersey City and had lived in Lyndhurst and Freehold before moving to Toms River. George worked as a sales manager for Anheuser-Busch in Newark for 18 years, retiring in 1993. He was an excellent leader and was loved by his co-workers. George was also a proud veteran of the United States Air Force. He was a communicant and usher at the Co-Cathedral of St. Robert Bellarmine in Freehold and a member of the Howell Lanes Bowling League. George was a former trustee of Silvermead Community Club and former senior coordinator of the Freehold Township Senior Center.
George was predeceased by his wife, Josephine A. Schaaf in 2014 and his son, Dean F. Schaaf in 2017. He is survived by his son, Carl S. Schaaf and his wife, Randi of Robbinsville; three grandchildren, Tara, Dana, and Stacey; a sister, Judith Graniti of Point Pleasant; and daughter-in-law, Barbara Schaaf of Beachwood.
A visitation will be held at the Clayton & McGirr Funeral Home, 100 Elton-Adelphia Road (Route 524), Freehold Township on Wednesday, February 14, 2018 from 5:00 to 9:00 PM. Relatives and friends are invited to gather at the funeral home on Thursday, February 15, 2018 at 9:00 AM for the procession to his 10:00 AM Funeral Mass at the Co-Cathedral of St. Robert Bellarmine, 61 Georgia Road, Freehold Township. Entombment will follow in St. Gabriel's Cemetery and Chapel Mausoleum, Marlboro. For information, directions, or condolence messages to the family, visit www.claytonfuneralhome.com.