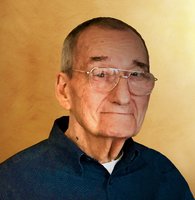 Carmen A. Cappello
Carmen A. Cappello, 89, of Freehold Township passed away on Friday, January 25, 2019 at CentraState Medical Center, Freehold Township. He was born and raised in Brooklyn and had lived on Long Island and in Manalapan before settling in Freehold 30 years ago. Carmen served in the United States Navy during the Korean War. He had worked as a marine paint sales technician at Sherwin Williams and previously at Glidden Paint. Carmen was a member of the American Legion and the Disabled American Veterans.
He is predeceased by his sisters; Gloria and AnnaMay; and stepchild, Erin Hanna. Carmen is survived by his wife of 15 years, Sylvia Cappello of Freehold Township; daughter, Donna Marie Sundermier and her husband, Gene of South River/Freehold; son, Gerard Cappello and his wife, Danette of Phoenix, AZ; granddaughters, Nicole and Michele; stepchildren, Eileen Roe and her husband, Jack of Hewitt, Sean McMahon of Shawnee, OK, Glenn McMahon of Minsk, Belarus, and Jamie McMahon and her husband, James Roebuck of Southgate, MI; seven step grandchildren; and nine step great grandchildren.
A memorial service will be held at the Clayton & McGirr Funeral Home, 100 Elton-Adelphia Road (Route 524), Freehold Township on Thursday, January 31, 2019 at 10:00 AM. Inurnment will be private. For information, directions, or condolence messages to the family, visit www.claytonfuneralhome.com.