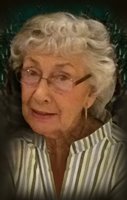 Concetta "Teena" Cundari
Concetta "Teena" Cundari, 99, of Toms River passed away on Tuesday, June 18, 2019 at Community Medical Center, Toms River. A first generation Italian-American and the oldest of six children, Teena was born and raised in Brooklyn, NY. She married Frank Cundari in 1944. They had two wonderful daughters and raised their family in Brooklyn. In 1982, Teena and Frank retired to Toms River, NJ, where they lived happily for many years. Teena was active with friends and neighbors, playing in her bowling and bocce ball leagues, crocheting, baking, and taking trips to Atlantic City to play the slot machines. Most of all, Teena loved spending time with family, especially her great-grandchildren, to whom she passed on cherished family traditions, values, and recipes that will live on for generations to come.
Teena was predeceased by her husband of 67 years, Frank Cundari; daughter, Joann Mazzola; grandson, Christian Bocchiaro; son-in-law, Robert Bocchiaro; two brothers, Pat and Louis Volpicelli; and two sisters, Angelina Vetrano and Frances Noren. She is survived by her daughter, Linda Bocchiaro of Millstone; grandchildren, Craig Bocchiaro and his wife, Christine of Jackson, Tara DiBari Bonafide and her husband, Pete Bonafide of Millstone, Linda Mazzola of Atlantic Highlands, and Kristine Getelman of Long Island; 7 great grandchildren, Jessica, Kelsey, Luke, Sydney, Gianna, Ava, and Mia; sister, Lucille Costagliola and her husband, Leonard of Long Island; and son-in-law, Salvatore Mazzola of Staten Island.
A visitation will be held at the Clayton & McGirr Funeral Home, 100 Elton-Adelphia Road (Route 524), Freehold Township on Monday, June 24, 2019 from 4:00 to 8:00 PM. Relatives and friends are invited to attend her 11:00 AM funeral service on Tuesday, June 25, 2019 at the funeral home. Interment will follow in Green-Wood Cemetery, Brooklyn. For those who desire, donations in Teena's name may be made to STOMP the Monster, P.O. Box 521, Marlboro, NJ 07746. For information, donations, or condolence messages to the family, visit www.claytonfuneralhome.com.