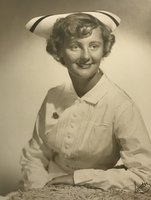 Barbara Ann Zoppi
Barbara Ann Zoppi, 87, of Howell passed away on Tuesday, July 9, 2019 at home. She was born and raised in Freehold Boro and graduated from Freehold Boro High School in 1950. Barbara attended nursing school at Monmouth Medical Center and received her master's degree from Jersey City State College in 1977. She raised her family in Oceanport and worked as a school nurse at Monmouth Beach Middle School and Bangs Avenue Elementary School (now known as the Obama Elementary School) in Asbury Park for 15 years. Barbara was an open-minded woman and had a large impact on the children she had the pleasure of working with. She enjoyed reading, politics, and looked forward to the day that there would be a woman in the White House. Barbara practiced Buddhism and meditation regularly and loved to spend time at the beach with her sister, Jean. She especially liked going to Manasquan and Brigantine Beach. Most of all, Barbara loved her grandchildren and great grandchildren.
Barbara was predeceased by her son, Gerard Zoppi in 1985. She is survived by her husband of 65 years, Jerry Zoppi of Howell; children, Jeanne Gary and her husband, Brian of New York, Philip Zoppi and his wife, Kathy of Browns Mills, Christopher Zoppi and his wife, Sarah of Little Silver, and Nicole Zoppi of Laguna Beach, CA; sister, Jean Pettit Lacket of Freehold Township; nine grandchildren; and one great grandchild.
All arrangements are private and under the direction of the Clayton & McGirr Funeral Home, Freehold Township. For information or condolence messages to the family, visit www.claytonfuneralhome.com.