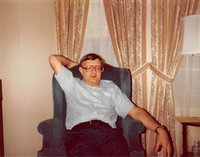 Harry G. Haggren
Harry Gustave Haggren, 83, of Howell passed away on Thursday, September 12, 2019. Born and raised in New York City, he graduated from Stuyvesant High School and Hunter College in 1957 with a Bachelor of Arts degree and lived in New Jersey, North Carolina and Virginia, where he had worked for Vanity Fair, Wrangler, and Palmetto in the garment industry along with several entrepreneurial endeavors before moving to Howell.
Harry was known as Uncle Harry to all at Land O' Pines Elementary School when he volunteered with Ms. Woolley's class for several years where his great niece and great nephews attended school. He lived at Crossroads in Howell since its opening and will be missed by his many friends. Harry enjoyed visiting with dear friends and watching sports.
He served his community as a member of the Howell Environmental Commission and its historical committee for many years.
He was predeceased by his brother, David E. Haggren in 1996; and his sister, Evelyn Haggren Wolff in 2016. Harry is survived by his nieces and nephews, Suzanne Wolff of Howell, William Wolff and his wife, Rebecca Wolff of Howell, Carol Wolff Fallon and her husband, John J. Fallon, Jr. of East Greenwich, RI, and Nancy Wolff and her husband, Jack Gernsheimer of Bernville, PA; and his six great nieces and nephews, David Trethewey, Emily Trethewey, William Wolff, James Wolff, Claire Fallon and Conor Fallon.
A celebration of Harry's life will be held at the Clayton & McGirr Funeral Home, 100 Elton-Adelphia Road (Route 524) Freehold Township on Sunday, September 15, 2019 from 3:00 to 5:00 PM with his memorial service to take place at 5:00 PM. For those who desire, memorial contributions in Harry's name may be made to American Diabetes Association, 2451 Crystal Drive, Suite 900, Arlington, VA 22202 or to a charity of your choosing. For information, directions or condolence messages to the family, visit www.claytonfuneralhome.com.