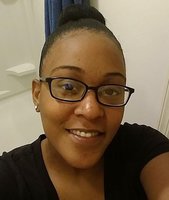 Rashawna Alberta Ashby-Greene
Rashawna Alberta Ashby-Greene, 31, of Mount Holly passed away on Wednesday, November 11, 2020 at her residence. She was born in Manhattan spent a portion of her childhood in Teaneck before moving to Freehold Township. Rashawna took pride in being a mother to her four children, always spreading her love onto others, she was the one you would call if you needed a sitter. A woman of many talents Rashawna could often be found in her kitchen cooking and took great pleasure in making others look their best she was talented when it came to the art of cosmetology. Rashawna was the true definition of a good time singing and dancing was how she would often express herself.
She was predeceased by her parents Clyde and Geraldine Ashby. Rashawna is survived by her loving children, Jasiah,Alexis,Nevaeh, Adrian; Husband, Todd Greene; Sisters, Selina,Delores,Crystal,Ebony J,Ebony T,Lateisha,Alisha; Brothers, Kenneth, Glenn, James, Shawn; Nephews, Rodney, Jeremy, David, Jalen, Darius, Lloyd, Damien; Nieces Syreeta, Faith, Hanna, Amiyah; and a host of close friends.
All arrangements are private. For information, directions or condolence messages to the family, visit www.claytonfuneralhome.com