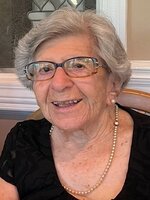 Rafella Scotti Devaney
Rafella Scotti Devaney, 98, of Farmingdale passed away on Saturday, October 30, 2021, at her home with her grandnieces by her side. She was born and raised in Bayonne and lived in New Jersey before moving to Arizona and Massachusetts, before settling in Farmingdale. Rafella worked for Western Electric on the assembly line as well as Continental Casualty Insurance in Human Resources. She worked for and retired from Prudential Insurance as a senior Human Resources Manager. Rafella was a talented seamstress who could make or mend anything from clothes to curtains. She traveled the world and always had a book in her hand no matter what country she was visiting.
She was predeceased by her beloved husband, Frances J. Devaney, and her six siblings. Rafella is survived by her sister, Jennie Thomas of Plum Island, Massachusetts; nephew, Vincent Cancellieri and his wife, Marion of Whiting; her grandnieces, Lawren Coletta and her husband, Jon of Brick, Judith Napier and her husband, David of Farmingdale, and Margaret O'Donnell and her husband, Thomas of Whiting, as well as many extended family members.
A visitation will be held at St. Catherine of Siena Roman Catholic Church, 31 Asbury Road, Farmingdale, on Wednesday, November 3, 2021, at 9:00 AM with her Funeral Mass to follow at 10:00 AM. For those who are unable to attend in person, the family invites you to participate via WEBCAST. Interment will be private. All arrangements are under the direction of the Clayton & McGirr Funeral Home. For information, directions, or condolence messages to the family visit claytonfuneralhome.com