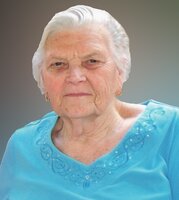 Maria Partala
Maria Partala, 91, of Howell passed away peacefully at Ridgemont Personal Care in Ridgeway, PA. Maria was born in Feldmoching, Germany and came to the United States in 1951. She lived in Upstate, NY, Oyster Bay, NY, Chicago, IL, Florida, and Howell, NJ. Maria just recently moved to Ridgeway, PA to stay with her daughter. She retired as a foreman for Robert Mueller Flowers, Farmingdale in 1988. A woman of faith, Maria was a parishioner of St. Alexander Nevsky R.O. Cathedral, Howell and volunteered at their School. She had a thirst for travel and appreciated tending to her vegetable and flower gardens. Yet spending time with family is what Maria truly loved. The Matriarch, she was very giving and supporting and was known as "Mommom".
Maria was predeceased by her husband, Peter Partala; a daughter, Lubow Partala; a son, Eugene Partala; a son-in-law, Robert Bonfilio; and five brothers, Joseph, Alphonse, Michael, Wilhelm, and Ernste. She is survived by two daughters, Sieglinde "Linda" Bonfilio of Brockway, PA and Maria A. Partala of Howell; son, Alex Partala of Howell; her grandson, John Martin Bonfilio of Lenexa, KS; sisters-in-law, Judith Sanders of Oklahoma and Diane Byer of Oklahoma; two nieces, Jill Byer of Oklahoma and Claudine Byer of Oklahoma; and several great nieces and nephews.
A Pannyhida will be held at 5:00 PM on Friday, November 26, 2021 at St. Alexander Nevsky R.O. Cathedral, 200 Alexander Avenue, Howell, NJ 07731. Relatives and friends are invited to attend her 10:00 AM Funeral Service at the Cathedral on Saturday, November 27, 2021. Interment will follow in Woodlawn Cemetery, Lakewood. Arrangements by Clayton & McGirr Funeral Home, Freehold Township, NJ. For information, direction or condolence messages to the family, visit www.claytonfuneralhome.com.