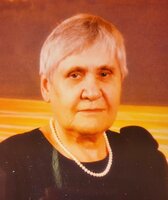 Yelena Yegorova
Yelena Yegorova, 93, of Ocean Township passed away peacefully on Sunday, January 2, 2022 at home. Yelena was born in Kazakhstan and came to the United States in 1994 settling in Ocean Township.
She was predeceased by her husband, Leonid in 1996 and a brother. Yelena is survived by her three children, Leonid Yegorov and his wife, Lyudmila of Manalapan, Irina Kushnir and her husband, Alexander of Ocean Township and Pavel Yegorov and his wife of Manalapan, Galina; six grandchildren; and 5 great grandchildren.
A pannyhida will be held at St. Alexander Nevsky R. O. Cathedral, 200 Alexander Avenue, Howell, NJ 07731 on Tuesday, January 4, 2022 at 6:00 PM. Relatives and friends are invited to attend her 10:00 AM funeral service at the Cathedral on Wednesday, January 5, 2022. Interment will follow in St. Vladimir's R.O. Cemetery, Jackson, NJ. Arrangements by Clayton & McGirr Funeral Home, Freehold Township, NJ. For information, directions, or condolence messages to the family, visit www.claytonfuneralhome.com.