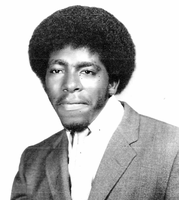 Durell "Duke" Cragg, Jr
Durell "Duke" Cragg, Jr., 70, passed away at Wedgwood Care Center, Freehold, on March 19, 2022, after an extended illness. He was born in Neptune and was a lifelong resident of the Jersey Shore. In his youth Durell was well known as a talented drummer in the Jersey shore club scene and was employed part time as a studio drummer.
Durell was a graduate of Manasquan High School and Union Technical Institute. He was employed at Amalgamated Communication, and Brian C. Gibson Paving and Sealcoating.
After becoming ill, Durell continued to pursue his love of music, acquiring, and cataloguing an extensive variety of genres of musical recordings.
He was predeceased by his parents, Durell Cragg, Sr., and Gladys Cragg. Durell is survived by his sister, Gwendolyn Boswell and her husband, Charles; nieces, Cassandra Solomon, Charolyn Sharrock and her husband, Kevin; great nieces and nephews, Kacia Dolor and her husband, Nathan, Lauren Phillips, Rahnieme Davidson-Cragg, River Davidson-Cragg, and Raeden Davidson-Cragg; and great great nieces and nephew, Seth, Naomi, and Zoe. He will be missed by numerous uncles, aunts, and cousins.
Graveside service will be held on Saturday, April 2, 2022 at 11:00 AM at Monmouth Memorial Park, 4201 NJ-33, Tinton Falls. For those that cannot attend in person, the family invites you to participate via webcast, HERE. Arrangements are under the direction of Clayton & McGirr Funeral Home, Freehold Township. For information, directions, or condolence messages to the family, visit www.claytonfuneralhome.com.