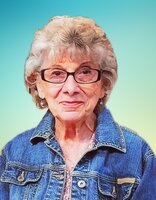 Ann Cilente
Ann Cilente of Howell NJ at the age of 93 passed on Tuesday, May 3,2022. Ann was born in Brooklyn, NY on November 1, 1928, lived in Huguenot section of Staten Island where she raised her seven children and settled in Surrey Downs located in Howell, NJ in 2005. She worked as a retail associate for Macy's, J.C. Penney and Korvette's, all in Staten Island. Ann is a parishiner of the Co-Cathedral of St. Robert Bellarmine and a former parishioner of Our Lady Star of the Sea in Staten Island.
Ann was predeceased by her parents, Mary and Michael Messina; her beloved husband, Anthony Cilente in 2004; and her son, Anthony in 2014. She is survived by two sons, Jerry Cilente of Farmingdale and Ronny Cilente of Old Bridge; as well as four daughters, Anne Ciely of Millstone, Mary Ellen Cilente of Freehold, Teresa Sepetjian of Edison and Catherine Cerra of Freehold; fifteen grandchildren; and thirteen great children.
Ann was admired by family as well as friends. She was a strong, smart, kind person who managed to over come many obstacles in her lifetime.
Her favorite past times were spending time with her family especially her grandchildren and great grand children. She also enjoyed ceramics, gardening, and playing bingo. Ann is especially remembered as the great cook she was and the weekly Sunday meals she prepared each Sunday for her children and grandchildren. Ann was very loved and will be missed by all very much.
Visitation will be held at the Clayton & McGirr Funeral Home, 100 Elton-Adelphia Road (Route 524), Freehold Township on Thursday, May 5, 2022 from 3:00 to 7:00 PM. Realtives and friends are invited to gather at the funeral home on Friday, May 6, 2022 at 10:45 AM for the procession to her 11:45 AM Funeral Mass at the Co-Cathedral of St. Robert Bellarmine, 61 Georgia Road, Freehold Township. Interment will follow in Resurrection Cemetery, 361 Sharrott Avenue, Staten Island. For information, directions, or to leave condolence messages to the family, please visit www.claytonfuneralhome.com