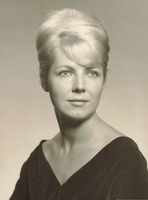 Ruth S. Hoglund
Ruth S. Hoglund, 85, of Cream Ridge, NJ passed away after a period of failing health on Monday, June 6, 2022 at Robert Wood Johnson University Hospital in Hamilton, NJ.
Ruth was born and raised in the Port Richmond neighborhood of Staten Island by proud immigrants from Germany, Otto and Erika Fahrman. She graduated from Port Richmond High School in 1954. Following high school, Ruth started a career in secretarial work at the Chemical Bank of New York in Manhattan, and took classes at NYU. After her children were of school age, Ruth returned to her career and began working for the NYC Board of Education as an administrative assistant, retiring from IS 7 in 2002. Ruth and her family moved from Staten Island to Marlboro, NJ in 1984, then to Howell, NJ in 2002, and finally to Cream Ridge, NJ in the fall of 2021.
She was warm, welcoming, and fun, and truly made a friend wherever she went. She enjoyed designing her home, loved antiques, and had an active social life including dancing, traveling with her girlfriends, skiing, and bowling. More than anything, she loved the beach, where in 1962 she met the love of her life, Roy Hoglund, at the Osprey Lounge in Manasquan. She and Roy were long time members of the Staten Island Ski Club where she developed many great friendships while skiing throughout New England, Canada and Europe. Ruth and Roy enjoyed more than 50 years of marriage and raised two children, Douglas and Janice. Following her retirement, she enjoyed summers at Avon-by-the-Sea with the beach crew and many trips with her husband and friends. Her most precious moments were spent living so closely to her grandchildren for the last 20 years.
Ruth is survived by her two children, Douglas Hoglund and his wife, Nancy of Cream Ridge, NJ and Janice Richard and her husband, Dwight of Barrington, NH; five grandchildren, Jacob Hoglund, Kaitlyn Hoglund, Amanda Hoglund, Fletcher Richard, and Benjamin Hoglund; nieces that were like daughters to her, family members that took great care of her as well as many, many cherished friends.
There will be a celebration of life on June 25th at 1 Manor Drive, Cream Ridge, NJ 08514 at 2:30PM, where family and friends will be invited to gather and celebrate Ruth's life, share stories and laughs, and enjoy a party as she always did. Please feel free to bring your thoughts and memories and enjoy some food and drinks. All will be welcome to tell a story or memory if they'd like when we do a special toast for Ruth at 4pm, followed by general merriment and reminiscing. Condolence messages to the family are welcomed at www.claytonfuneralhome.com.