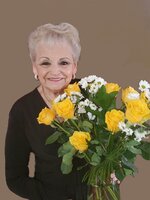 Gladys Hessler
Gladys Hessler, 88, of Freehold Township passed away on Wednesday, June 15, 2022 at CentraState Medical Center, Freehold Township. She was born in Mayaguez, Puerto Rico. After immigrating to the United States when she was two years old, Gladys was raised in New York City by her father. After graduating from high school, she earned a certificate in cosmetology at Wilfred Academy, and started a career as a hairdresser. She lived for a time in the Bronx and later returned to Puerto Rico working for a time as a hairstylist at the TV station WAPA. She returned to the United States and settled with her sister in Colonia where she changed careers and put her talents to the floral department, first at ShopRIte in Edison, and for her remaining years as the Floral Manager for Mayfair Foodtown in Somerset. Gladys then lived in North Brunswick and retired to Freehold Township in 2001. Gladys enjoyed knitting and crocheting, and loved listening to old time Spanish music. A devout catholic, she was a parishioner of the Co-Cathedral of St. Robert Bellarmine.
Gladys was predeceased by her brother, Raymond Rivera; and a sister, Phyllis DeJesus. She is survived by her husband, Paul Hessler; daughter, Iris "GiGi" Quinones-Ramos and her husband, Leonard; a grandson, Daniel Gonzalez; her sister, Iris Wirth; and many nieces and nephews.
Relatives and friends are invited to attend her 10:30 AM Memorial Funeral Mass on Wednesday, June 22, 2022 at the Co-Cathedral of St. Robert Bellarmine, 61 Georgia Road, Freehold Township. Inurnment will follow in St. Rose of Lima Cemetery Cemetery, Freehold. For those who desire, memorial contributions may be made to the American Cancer Society, 2310 Route 34, Suite 1D, Manasquan, NJ 08736. For information, directions or to leave condolence messages for the family, visit www.claytonfuneralhome.com.