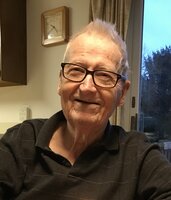 Donald F. Ficken
Donald F. Ficken, 94, of Clarksburg passed away at home on Friday, June 17, 2022. He was born and raised in Brooklyn. After graduating from Brooklyn Tech, he was drafted into the U.S. Army and served his country during WWII. Donald and his wife, Dorothy, were married in 1952. They lived and raised their family in Hicksville and Commack, NY, and Tadworth and Leatherhead, England, before settling here in 1986.
While working full-time for Mobil Oil in New York, Donald attended night school, earning his BBA from St. John's University in 1954. He continued working for Mobil in both the US and the UK, retiring from the company after over 40 years' service.
Donald was a proud member of the Irish Wolfhound Club in the UK and showed one of his wolfhounds at Cruft's Dog Show. An avid sports and music fan, in his youth he played ice hockey, managed a baseball team and attended many sports events and big band concerts. In his later years, he loved to watch ice hockey, baseball (he was a life-long Yankees fan), football, basketball, soccer, boxing and darts, and listen to anything from Benny Goodman to Bob Marley. Donald enjoyed being outdoors and spent many hours happily tending to his property on his John Deere tractor. His greatest joy, however, came from spending time with family, especially with his beloved grandchildren.
Donald was predeceased by his wife, Dorothy; and his sisters, Arzelle Ficken and Joyce O'Connor Anderson. He is survived by his children, Patricia Taylor of Tarpon Springs, FL, Barbara LaSalle of San Diego, CA, Donald J. Ficken of Del Mar, CA, and Lynn Lenoci of Clarksburg; five grandchildren, Katie and Helen Taylor, Andrew Ficken, and Lawrence and Daniel Lenoci; and many nieces and nephews.
Relatives and friends are invited to attend Donald's 11:00 AM Funeral Mass at his parish church, St. Joseph's Catholic Church, 91 Stillhouse Road, Millstone. Interment will follow Old Tennent Cemetery, 454 Tennent Road, Manalapan. For those who cannot attend in person, you may participate via the funeral home's webcast HERE. In the spirit of Donald's giving nature, in lieu of flowers, please help someone in need. For information, directions or condolence messages to the family, visit www.claytonfuneralhome.com