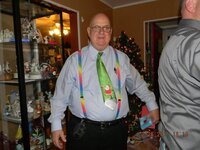 Ralph E. Duffell
Ralph E. Duffell, 83, of Freehold passed away on Sunday, October 9, 2022 at HMH Southern
Ocean Medical Center, Stafford Township. He was born and raised in Chicago. Along with his
wife, Barbara they raised their family in Chicago before moving to Maplewood. In 2013, Ralph
settled in Freehold. Ralph had a 50 year long career in the printing business. In Chicago, he
was a mentor/leader for the Junior Achievement where his group made fudge as their business.
Fudge making became a family tradition and they had the store "Make It Fudge" in Maplewood.
Ralph was a member of the Knights of Columbus Council 4504 in Union. He was active with the
Boy Scouts and Girls Scouts in Chicago and then in Essex County. After moving to Freehold, he
joined the Freehold and Manalapan Senior Centers where he immediately volunteered to help
the other seniors with computer skills/issues and set up computer centers. He also volunteered
at the concession stand for the Freehold Revolution football games. Ralph was known for his
kindness, constant willingness to help and guide others, and never saying "no". Ralph treated
everybody like family, loved to host card parties and having his kids' friends around the house.
In keeping Ralph's memory alive, at the family's request next time you hear a song by Queen,
think of him, and remember the good times.
Ralph was predeceased by his parents, Fred and Dorothy Duffell; wife, Barbara Duffell; great
granddaughter, Harper Tampier; and sister, Kitti Meshenberg. He is survived by his six
children, Theresa Wavra of New Gretna, Anne Burdett and her husband, Richard of Scotch
Plains, Mary Blood and her husband, Donald of Manahawkin, William Duffell and his wife Carla
of Avon, IN, Richard Duffell and his fiancé, Andrea DiGiovanni of Hackettstown and Patricia
Tomazic and her husband, Jonathan of Freehold; fifteen grandchildren, Bill, Amanda, Donny,
Timmy, Michelle, Bryan, Darian, Bailey, Andy, Courtney, Ryan, Damian, Nathan, Kristen and
Kevin; three great grandchildren, Beaudin, Noah and Rowan; and two sisters, Gale Michael and
Mike Mabry.
Visitation will be held at the Clayton & McGirr Funeral Home, 100 Elton-Adelphia Road (Route
524), Freehold Township on Friday, October 14, 2022, from 5:00 to 9:00 PM. Relatives and
friends are invited to attend his 9:00 AM Funeral Service on Saturday October 15, 2022, at the
funeral home with his burial to follow at Graceland Memorial Park, 1900 Galloping Hill Road,
Kenilworth, NJ 07033. In lieu of flowers, contributions in memory of Ralph may be made to
Freehold First Aid Squad, 18 Spring Street, Freehold For information, directions or to leave
condolence messages to the family, visit www.claytonfuneralhome.com
1…2…3 GUT!