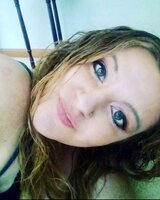 Vera Griatzky
Vera Griatzky, 35, of Lakewood passed away unexpectedly on Tuesday, February 7, 2023 at Ocean Medical Center, Brick. Vera was born in Point Pleasant. She was raised and lived her whole life in Brick before moving to Lakewood during the Pandemic in 2020. Vera was most recently a counter clerk for Mavis Tire and waitressed locally in town. She was a fashionista in every way, always making sure her hair, nails and makeup were perfect and in trend. Vera relished listening to music that moved and inspired her. A true Jersey Girl, she took great pleasure spending her free time outdoors at parks, the boardwalk and the Beach (especially Windward Beach in Brick). Most of all, she was a true caregiver to her father in these past years.
Vera is survived by her Fiancé, Roosevelt McDonald of Lakewood; father, Nicholas Griatzky of Brick; mother, Suzanne Parsley of Keansburg; big sister, Natasha Griatzky of University Heights, Newark; maternal grandmother, Alice Dickens and her husband, Raymond of Jackson; an aunt, Maria Griatzky of Argentina; and many other numerous uncles, aunts, cousins, and dear friends; to include the families infamous pet, the red nosed reindeer, "Duke" that she was a mother to. Vera was a free spirit and her memory will remain in our hearts forever.
All arrangements are private and under the direction of Clayton & McGirr Funeral Home, Freehold Township.