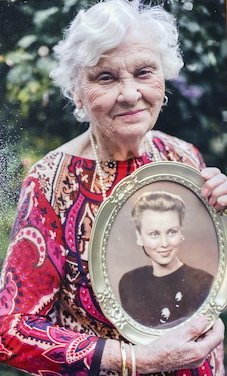 Obituary of Tamara Ivanoff
Tamara Ivanoff, 96, of Jackson, NJ passed away peacefully on Tuesday, July 13, 2021 at her daughter's home in Blacksburg, VA. Tamara was born in Shanghai, China and came to the United States in 1947 settling in Brooklyn, NY. She had lived in Manhattan, Long Island, Guam and Winnipeg, Canada before retiring to Jackson, NJ in 2011. Tamara was a true Renaissance woman, limitless in her capacities for development. She embodied this with a pious devotion to her faith. Also, as a teacher of children as well as the art of dance and cooking. Tamara had a love of the arts and nature, leading to her work as a florist. She was caring wife, loving mother, and adoring grandmother and great-grandmother.
Tamara was predeceased by her husband, Dimitri Ivanoff; three sons, Paul Abbate, Gregory Abbate, and Michael Abbate; her only brother, the Very Reverend Valery Lukianov; and her former husband, Judge Paul Abbate, Sr. She is survived by her daughter, Maria Rossi and her husband, John of Blacksburg, VA; six grandchildren, Lisa Rossi and her husband, Sean Tluchak, Catherine Seaver and her husband, Jed, Christina Garman and her husband, Benjamin, Dara Wood and her husband, Damian, and Jenna Bien and her husband, Geoff, and Alina Abbate; and fourteen great grandchildren.
Pannyhida will be held at St. Alexander Nevsky R.O. Cathedral, 200 Alexander Avenue, Howell, NJ 07731 on Saturday, July 17, 2021 at 7:30 PM & Sunday, July 18, 2021 at 11:30 AM. Relatives and friends are invited to attend her funeral liturgy at the Cathedral on Monday, July 19, 2021 at 9:00 AM followed by her 11:00 AM funeral service. Interment will follow in St. Vladimir's R.O. Cemetery, 316 Cassville Road, Jackson, NJ 07728. All arrangements are under the direction of the Clayton & McGirr Funeral Home, 100 Elton-Adelphia Road, Freehold Township, NJ 07728. For those who desire, contributions in memory of Tamara may be made to the St. Alexander Nevsky R.O. Cathedral Benevolent Fund, 200 Alexander Avenue, Howell, NJ 07731 or Here. For information, directions or condolence messages to the family, visit www.claytonfuneralhome.com.