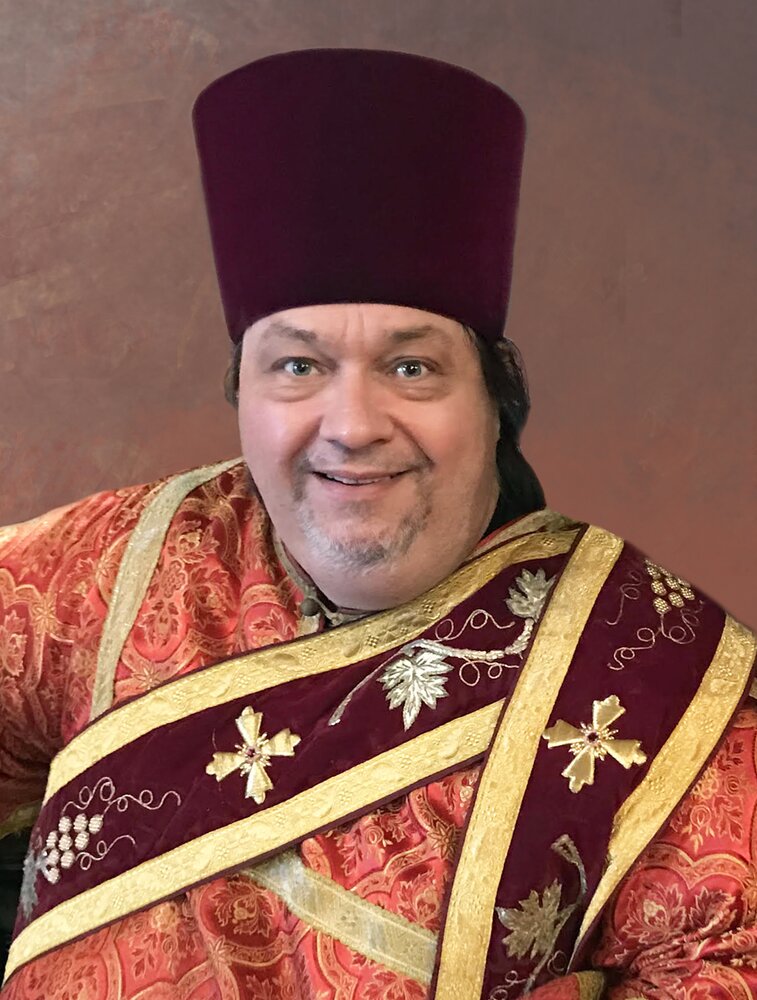 In Memory of
Fr. Protodeacon Nicholas V. Lukianov
1964 - 2021
Obituary of Fr. Protodeacon Nicholas V. Lukianov
Fr. Protodeacon Nicholas V. Lukianov was born on the Transfiguration of Our Lord, August 19, 1964 in Glen Cove, NY to Fr. Valery and Mat. Irina Lukianov. He was a lifelong resident of Howell Township. Fr. Nicholas earned an Associate's Degree in Civil Engineering from Ocean County College in Toms River, NJ, a Bachelor's Degree in Civil Engineering from N.J.I.T. (Newark College of Engineering) and a Master of Project Management from Carnegie Mellon University. He graduated from Holy Trinity Seminary in Jordanville, NY with a Certificate in Theological Studies. Since 1988, he has worked in the engineering profession and oversees NJDOT's Construction Management program as a Supervising Engineer. On September 15, 1991, he married Anna Landsberg. Fr. Nicholas was ordained a deacon by Archbishop Hilarion on May 23, 1998 at St. Alexander's. He was elevated to protodeacon on August 9, 2009 by Metropolitan Hilarion and was awarded the purple kamilavka on September 12, 2012. Fr. Nicholas has been a cleric here since his ordination. Besides serving, he runs all the engineering projects of the parish.
Fr. Nicholas was predeceased by his father, the Very Reverend Valery S. Lukianov. He is survived by his wife of 30 years, Anna; three children, Marina Jackevicius and her husband, Karl of Howell, Sophia Lukianov of Howell and Tatiana Lukianov of Howell; mother, Irene Lukianov of Howell; and siblings, Alexis Lukianov and his wife, Katherine of Highlands Beach, FL, Mitred Archpriest Fr. Serge Lukianov and his wife, Lubov of Howell, John Lukianov and his wife, Nina of South River, and Alexander Lukianov and his wife, Mary of Cocoa, FL; and numerous nieces and nephews.
Pannyhida will be held at St. Alexander Nevsky R.O. Cathedral, 200 Alexander Avenue, Howell, NJ 07731 on Monday, September 27, 2021 at 6:00 PM and Tuesday, September 28, 2021 at 6:00 PM. Vespers in Matins will be held at the Cathedral on Wednesday, September 29, 2021 at 4:30 PM with a Pannyhida to follow at 6:00 PM. A funeral liturgy will be held at the Cathedral on Thursday, September 30, 2021 at 8:30 AM with his funeral service to follow at 11:00 AM. Interment will be in St. Vladimir R.O. Cemetery, 316 Cassville Road, Jackson, NJ 08527. All arrangements are under the direction of the Clayton & McGirr Funeral Home, Freehold Township. For those who desire, memorial contributions may be made to the Parish Benevolent Fund, 200 Alexander Avenue, Howell, NJ 07731 or HERE. For information, directions or condolence messages to the family, visit www.claytonfuneralhome.com.
Share Your Memory of
Fr. Protodeacon Nicholas
Robert C. McGirr - Owner & Manager - N.J. License #3273