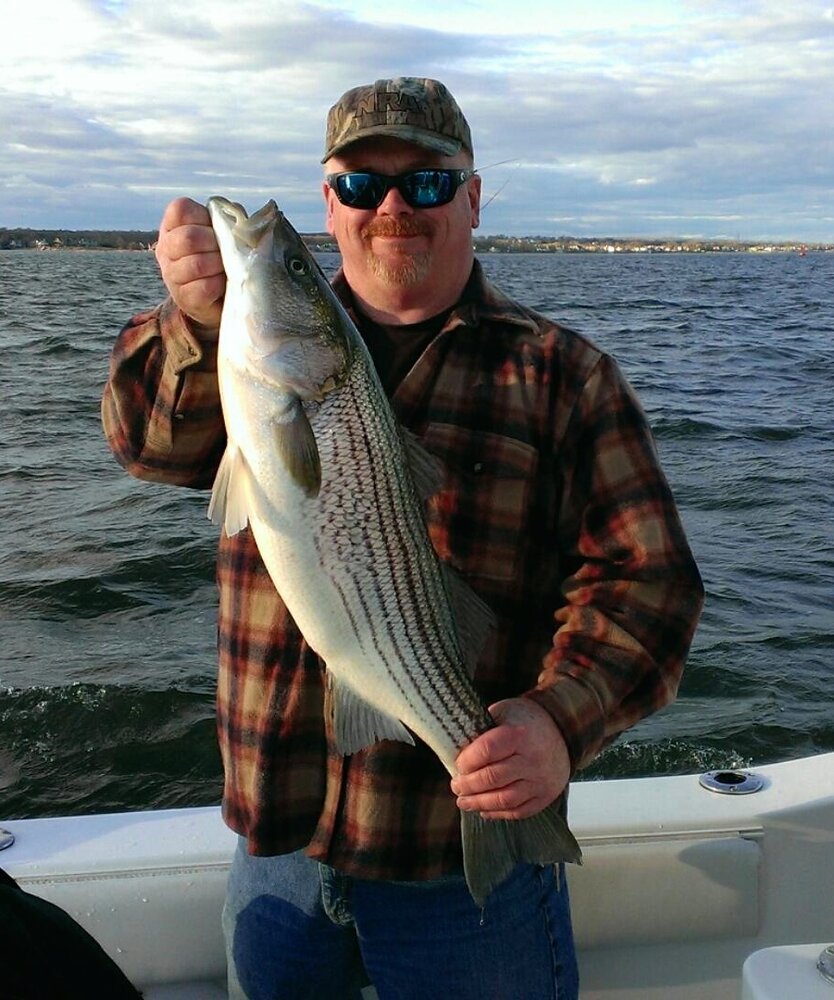 In Memory of
Kenneth R. Gorman
1963 - 2021
Obituary of Kenneth R. Gorman
Kenneth Gorman, 58, of Farmingdale, NJ, passed away on Sunday, October 17, 2021, surrounded by his loving wife, family, and friends. He was born in New Brunswick, NJ, at Saint Peter's Hospital. Kenneth was raised in Manalapan, before moving to Freehold, and then settling in Farmingdale. It was during his childhood in Manalapan that his love for the outdoors was fostered. During his youth, Kenneth was an active member of the Boy Scouts, and was on the team that was the First Place winner on the Manalapan Little League Baseball All Stars. He was a part of the Gallopin' Manalapan 4H Horse Club, and spent precious time working with his father at the Pinebrook Pony Farm.
As an adult, Kenneth's hobbies were a reflection of his love of all things outdoors. He enjoyed scuba diving, and became a Dive Master at East Coast Diving School, as well as a certified dive instructor. He had the opportunity to dive all around the world, finding unique items from shipwrecks, and appreciating the wonders under the water that few of us get to see. Kenneth was an avid fisherman, and one of his greatest pleasures was spending time with his wife, Lisa, and friends on the water. He spent countless hours in the woods with his fellow hunters. In addition to his experiences in New Jersey, New York, and Pennsylvania, he was able to hunt in Wyoming, Montana, and New Brunswick, Canada. He didn't always come home with an animal, but you could be sure there would be an abundance of stories to tell. In the last few years, Kenneth added Spelunking to his growing list of hobbies. Whenever he had the chance, he would find joy in metal detecting, and found antiques such as battle buttons, coins, and souvenirs. In his spare time, he could be found riding his Harley Davidson, practicing his archery, participating in gun matches at Central Jersey Rifle Pistol Club, or making improvements to his "toys."
Kenneth was a man's man, with a firm handshake and rough exterior that belied a kind, gentle man, with an incredible sense of humor and wisdom to share. He was patriotic man, who willingly gave back to his community by serving as a life member of the Gordon's Corner Fire Department, Station 26-1, of Manalapan, and a member of the Sons of the American Legion Post 346, of Neptune City. He worked as an elevator mechanic for IUEC Local One in New York and New Jersey for nearly 40 years. He was a shop steward and a member of the safety committee. His incredible work ethic and the standards he set for himself were an inspiration to the men with whom he worked, many of them becoming lifelong friends who affectionately called him "Red." Kenneth loved spending time with people who shared the same interests as him. In addition to the CJRPC, he was a life member of the NRA, as well as the Farmingdale Hunt Club, where he was known as "Red Stag."
Kenneth collected friends wherever he went. His ability to make people feel welcome, tell a story and entertain a crowd was legendary, and if Kenneth was around, you knew you were going to laugh. If you were lucky, when you stopped by his house, you would find Ken outside preparing venison on his custom grill, listening to country music. He was blessed with a quick wit, great memory, boisterous laugh, and a heart of gold, and we were blessed to know him.
Of all the things Kenneth enjoyed, his family was always number one. He was close to his parents, spending as much time with them as he could, including Monday night dinners at The Cabin. As his parents' needs changed, Kenneth and Lisa did everything they could to be sure his parents received the care they deserved, even opening their home to them. Kenneth's greatest love was for Lisa. It was beautiful to watch two people, so different in many ways, find their soul mates in each other. Together, they created a home that was not only a reflection of their interests and love, but was a comfortable, welcoming place for their family and friends. Their time together was too short, but their love will last a lifetime.
Kenneth was predeceased by his parents, Donald and Dorothy Gorman, sister-in-law, Linda Bowers, and brothers-in law, Ricky Risden and George Risden. Kenneth is survived by his beloved wife, Lisa Gorman of Farmingdale; sister, Donna Potts of Jackson; sister-in-law, Carol Heater and her husband, Robert, brother-in-law, Dale Bowers; nieces and nephews De-Anna Kostyszn and her husband Eric, Robbie Heater and his wife Jamie, Tiffany Kafarski and her husband John, Colby Heater, Jayne Lawrence, Amanda Dole, April Trojahn, and James Trojahn; great-nieces and nephews, McKenna Kostyszn, Brody Kostyszn, Violet Kafarski, Wyatt Kafarski, Colin Dole, Brooke Trojahn, Matthew Trojahn, and Kylie Marikisello; many loving extended family members; and his faithful Black Lab, Jeramiaha Weed.
Those that loved Kenneth are truly going to miss him, but will take comfort in the fact that he is where the fish are abundant and the game is always plentiful. Rest in peace, Kenneth.
Visitation will be held at the Clayton & McGirr Funeral Home, 100 Elton- Adelphia Road (Route 524), Freehold Township on Saturday, October 23, 2021 from 11:00 to 3:00 PM, with his funeral service to follow. For thosewho plan on attending, please feel free to wear your "uniform" or something that displays your connection with Kenneth. If you cannot join us, the family invites you to participate via Webcast, HERE. If you desire, memorial contributions in Kenneth's name can be made to the Gordon's Corner Fire Department, 683 Tennent Road, Manalapan, NJ 07726, or to the American Cancer Society – Kidney Cancer, 2310 Route 34, Suite 1D, Manasquan, NJ 08736. For information, directions, or to leave condolence messages to the family, please visit www.claytonfuneralhome.com
Visitation
11:00 am - 3:00 pm
Saturday, October 23, 2021
Clayton & McGirr Funeral Home
100 Elton-Adelphia Road
Freehold Township, New Jersey, United States

Get Directions
Funeral Service
3:00 pm
Saturday, October 23, 2021
Clayton & McGirr Funeral Home
100 Elton-Adelphia Road
Freehold Township, New Jersey, United States

Get Directions
Share Your Memory of
Kenneth

Robert C. McGirr - Owner & Manager - N.J. License #3273