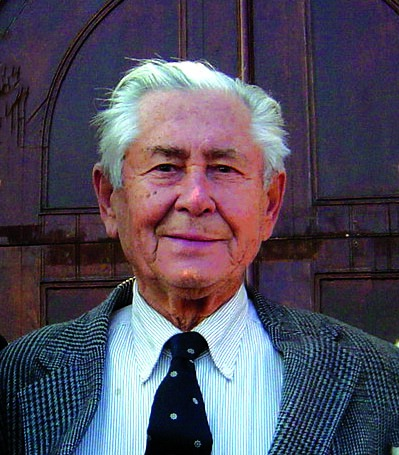 In Memory of
Eugeny Plishevsky
1926 - 2023
Obituary of Eugeny Plishevsky
Eugeny Plishevsky was born to Maria Silvestrovna (née Tyshkevich) Plishevsky (1903-94) and Ivan Mikhailovich Plishevsky (1901-92) on January 15, 1926, in a village named Kosirog near Liuban, Belarus. When the extended Plishevsky family was 'dekulakized' by the Soviet authorities during the First Five-Year Plan in 1929, they lost all their land and possessions and were sent to Yakutia to work in the mines. There, one sister named Nina was born and died in babyhood; two more twin sisters were born in 1935, of whom one, Tamara, survived. Having finished their forced labor term, the Plishevsky family—Ivan, Maria, Eugeny, and Tamara—moved to Kirovohrad (formerly Elizavetgrad, now Kropovnytskyi, Ukraine) in February, 1939. Their new life took an abrupt turn with the German invasion in 1941.
In 1943, like many others in the 'second wave' of large-scale emigration, the Plishevsky family fled the Soviet Union. In the chaos, Eugeny became separated from his family. As a strong and capable seventeen-year-old in wartime Europe, he worked at everything from fixing roofs to hauling sandbags everywhere from Vienna, Stuttgart, and Romania, finally hitching a ride in horsecart to Hungary headed for Austria. By 1945, he had reached the Displaced Persons Camp of Wentorf in Lauenberg (Schleswig-Holstein, Germany). He found his family again thanks to an ad that his father posted in a refugee newspaper (in what started the Plishevsky family tradition of planning surprises, Ivan did not tell Maria that their son had been found until Eugeny showed up at the door).
For the Plishevsky family, living in the barracks of the Displaced Persons camp of Fischbeck in the British zone (Hamburg environs, Germany) from 1945-1949 proved an unexpectedly happy respite. With dedicated teachers and priests, the camp offered schooling, extracurricular activities for young people, and the chance to have a daily church life richer than anything they had known in the USSR. There, Eugeny met many future lifelong friends, including future archdeacon Eugeny Burbelo, Olga Petschnikowa , Alexandra Romanowski and future archdeacon Ivan Onopko. When this was threatened by the British attempt to forcibly repatriate refugees to the Soviet Union, the Plishevsky family was protected by Archbishop Vitaly (Ustinov), future hierarch of the Russian Orthodox Church Abroad, and fled before the trucks arrived.
Again separated from his family, Eugeny sailed from Bremerhaven, Germany for the United States on the USS General A. W. Greely. After arriving in New Windsor, Maryland, on March 3, 1950, he began to work for the farming family that had sponsored him. His ribcage was crushed by a faulty tractor that rolled over him, leaving him bedridden for months. After Eugeny recovered, the family was reunited first in Hagerstown, Maryland, then moved Trenton, New Jersey.
It was in New Jersey that Eugeny spent the rest of his life. There, he met Maria (known universally and affectionately as Marusya) Shehov, whom he married in Vineland in June 7,1958. An enthusiastic part of the second-wave diaspora clustered around New York City and industrial towns including Nyack, Trenton and Passaic, the young Plishevskys threw themselves into building new lives. Working in factories by day, they worked for their community in the evenings and on weekends. Whether in construction or cooking, plastering or pirozhki-making, Eugeny and Marusya were mainstays of parishes including Trenton, Lakewood, and finally Cassville-Jackson Township. These were the golden years of Russian American life, with generations bursting to learn about their Orthodox Christian history through lectures and the St. Vladimir Youth Circles—but also from the living examples of their parents. They continued to make that history themselves both through weekly parish activities and the annual St Vladimir celebration on the last weekend of July.
The literal high point of Eugeny's contributions came in the summer of 1988, when together with Oleg Rodzianko and his own father, Ivan, Eugeny put up scaffoldings so that the church iconography could be completed and himself spent months in the sweltering Central Jersey heat balancing on a ladder to gild the domes of the St. Vladimir Memorial Church in time for the Millennium of the Baptism of Rus, celebrated in Jackson during the tenure of Archpriest Boris Kizenko (Eugeny's brother-in-law). Eugeny and his father Ivan not only were pillars of the community—they built those pillars with their own hands.
For all of his contributions to the parishes and communities he served, Eugeny's love and dedication to his family was the core of his life. He and Marusya wanted their children—Anna (Rentsch) (1960), Nonna (Yachmennikov) (1961), Helen (Metlenko) (1966), and Serge (1969)—to grow up as faithful Orthodox Christians, speaking the language of their ancestors. This meant driving them to the parish school in Lakewood, insisting that Russian be the language spoken at the dinner (and lunch and breakfast) table, and to helping them to sew folk costumes and to build and design stage sets. It also meant tending a garden with cabbage and cucumbers and sorrel and dill—and recreating dacha life in their Trenton backyard, with Marusya's famous blinchiki and Ukrainian and Latin American songs and dominoes matches that went till the wee hours of the morning. Regular participants in the festivities, including neighbors like the Olhovskys and the Serpikows, became part of the extended family. Grandchildren including Adrian, Justin, Emilia, Nicholas, Alexei, Larissa, Kira, Sophia, Melanie, and John brought perhaps the most joy of all: they showed that all the Plishevskys had tried to accomplish had not only survived but thrived, and was continuing to build communities as far away as Australia.
After the deaths of Marusya and Father Boris Kizenko in 2010, a new stage of Eugeny's and his sister Tamara's lives began. Eugeny became the new honorary patriarch of the extended Kizenko clan, including his nieces Elizabeth, Nadieszda, Irene, and Marie, and his nephews Serafim and Peter and his namesake, Eugene. Church feasts, Sundays, weeknights—all offered the chance to discuss the nuances of Orthodoxy, history, and the latest news. Eugeny continued to reflect and rethink, offering a sage long-term view. For as long as his strength allowed, Eugeny attended St. Vladimir Memorial Church. Even as his vigor declined, he continued to radiate love and humility and gratitude.
The family expresses profound thanks to everyone who brought such joy to Eugeny throughout his long life, especially his dedicated caregivers Valentina and Liubov and Archpriest Sergei Ledkovsky. We hope that you can join us in bidding him farewell, and asking God's blessings as he enters eternity.
Pannyhida will be held at St. Vladimir Russian Orthodox Church, 134 Perrineville Road, Jackson, NJ 08527, at 6:00 PM on Wednesday, June 7, 2023. Relatives and friends are invited to attend his 10:00 AM Funeral Service on Thursday, June 8, 2023 at the Church. Interment will follow in St. Vladimir Russian Orthodox Cemetery, 316 Cassville Road, Jackson. Arrangements are under the direction of the Clayton & McGirr Funeral Home, Freehold Township. For information, directions, or condolence messages to the family, visit www.claytonfuneralhome.com.
The family expresses profound thanks to everyone who brought such joy to Eugeny throughout his long life. In the last year, he had trouble walking up the church steps, which forced him to attend another church. Donation for a handicap access, in lieu of flowers, can be made to:
St Vladimir's Church
134 Perrineville Rd
Jackson, NJ 08527
website: www.stvladnj.org; if donating by Paypal please include in special instructions (accessibility fund).
Pannyhida
6:00 pm - 8:00 pm
Wednesday, June 7, 2023
St. Vladimir Memorial Russian Orthodox Church
134 Perrineville Road
Jackson, New Jersey, United States
Funeral Service
10:00 am
Thursday, June 8, 2023
St. Vladimir's Memorial Russian Orthodox Church
134 Perrineville Road
Jackson, New Jersey, United States
Final Resting Place
11:30 am
Thursday, June 8, 2023
St. Vladimir R.O. Cemetery
316 Cassville Road
Jackson, New Jersey, United States
Share Your Memory of
Eugeny

Robert C. McGirr - Owner & Manager - N.J. License #3273