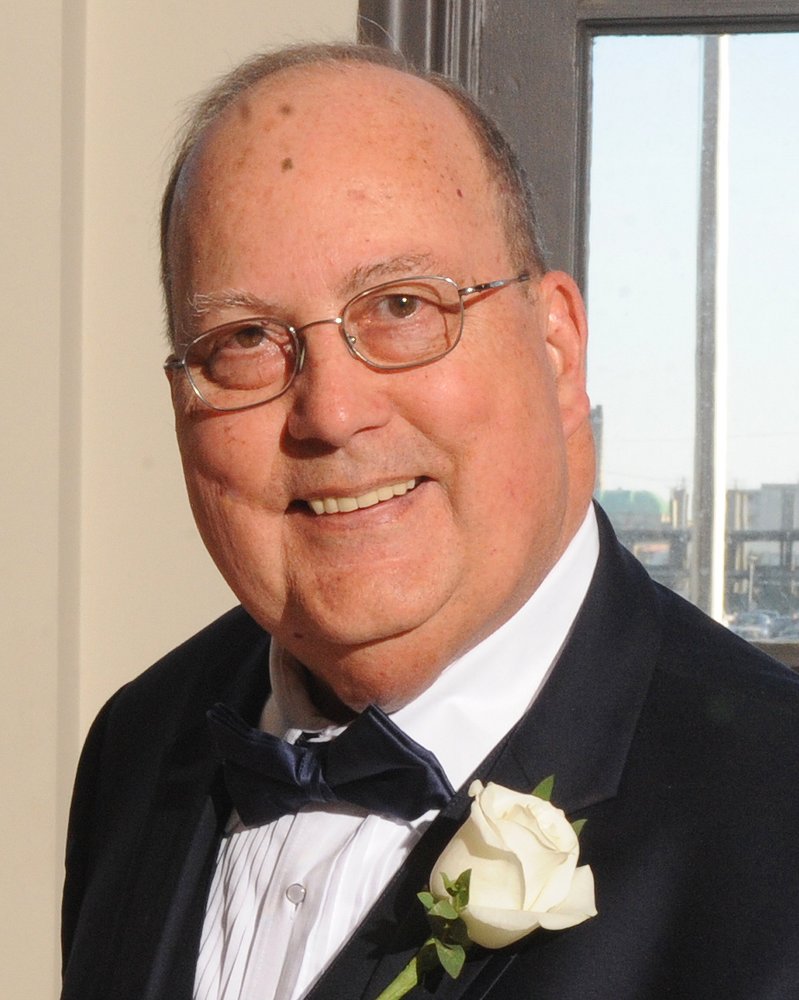 In Memory of
Patrick M. "Pat" Corbitt
1944 - 2019
Obituary of Patrick M. Corbitt
Patrick M. Corbitt, 74, of Old Bridge passed away on Thursday, May 23, 2019 at Robert Wood Johnson University Medical Center, New Brunswick, NJ. He was born on October 23, 1944 in Baltimore, MD to Paul C. Corbitt, a farmer and horse groom, and Florence A. (Lerian) Corbitt, an elementary school teacher and principal. They raised him on a farm in Carroll County, MD, where he attended St. John's School in Westminster, and was a champion long jumper, baseball catcher, and basketball player. Pat entered St. Hyacinth's College & Seminary from high school, where he took the name Fr. Seton. At St. Hyacinth's, he founded The Singing Friars, a folk group that toured throughout New England. It was on a tour stop at the University of Massachusetts that he met Carol Fazzalaro, a student at nearby Mount Holyoke College. After a courtship conducted by bicycle, they became engaged. Pat graduated with a philosophy degree but opted not to take his final vows as friar. Pat and Carol married in 1969.
Pat moved with his new wife back to Maryland, where he taught at his high school alma mater and worked with young people at Sykesville Psychiatric Center. After their first two daughters were born, the family moved to New Jersey and Pat took a job at South Beach Psychiatric Center on Staten Island. It was at South Beach that he discovered his love of television by videotaping patients as a therapy tool. After a brief time living on Staten Island, Pat and his family moved back to New Jersey and he began to freelance as a television cameraman and director, first with All Mobile Video and Rimyth. He and Carol added two more children to the family. He shot and directed hundreds of TV sporting events, including the New York Rangers, Boston Celtics, and New York Cosmos, and traveled to Mongolia in 1978 to tape The Great Mongolian Horse Race for ABC's Wide World of Sports. He also directed over 50 special interest shows and documentaries, including live roller derby, the Roberto Carlos Christmas Special, the iconic Soap Factory Disco television show, and the documentary, "The Magic of Muhammad Ali." Plus, he did extensive industrial work in over 200 commercials and 500 corporate and medical productions.
In the early 1980s, Pat began to work with Harvey Dubner, a mathematician, to invent and perfect the first computer that could create motion graphics for television, winning an EMMY in 1982 for their innovation. Pat was the only person outside of ABC to have one of these computers and became a pioneer in computer animation for television. This became his primary focus for well over a decade and he founded his own companies, Pat Corbitt & Associates, Synthetic Imagery, and Corbitt Design. Pat then turned his creativity to developing, producing, and directing feature films, television shows, music videos, and CD-ROMs, including Grandma Ollie's Morphabet Soup based on his mother's teachings, and interFIRE VR to train fire investigators. Even while doing all this professionally, Pat was a loving and involved father, coaching his children's soccer teams, advising and mentoring them, "driving the bus" to ski trips and gymnastics meets and college visits in his trusty Nellie Belle, introducing them to his unique career, bringing home the latest tech gadgets for them to try, and orchestrating late night chats with them and their friends. Pat's endurance, fortitude, and never quit attitude earned him the beloved nickname "Ironman."
In his later years, Pat returned to his philosophy roots and wrote the books, "Being Happy in a Crappy World" and "Drop 'Em Off, Pick 'Em Up," as well as editing "The (Jersey) Deacon's Voice." He found deep fulfillment in sharing his Catholic faith through his work as Pastoral Assistant, Adult Faith Formation Coordinator, RCIA Coordinator, and PREP Catechist at Most Holy Redeemer in Old Bridge. He became his grandchildren's biggest fan, cheering them on at their games and performances. Pat always joked that he would never retire and this turned out to be accurate, as he continued to write and pitch his shows and books until his passing. He loved playing guitar, ukulele, and the organ, fly fishing, sailing out of Keyport Yacht Club (where he was a Trustee at one time), singing, and piloting his small plane. He was, first and foremost, always a teacher, a mentor, a partner, and a true friend. He was a visionary, eternally optimistic, never defeated, funny, hard working beyond compare, prolific, creative, and singular in his ability to "line 'em up and knock 'em down." He will be profoundly and deeply missed by all who knew him.
Pat was predeceased by his parents, Paul and Florence Corbitt. Pat is survived by his wife of 50 years, Carol Corbitt; four children, Cathleen Dipierro and her husband, Daniel, of Jackson, Christine Bocchiaro and her husband, Craig, of Jackson, Jonathan Corbitt and his wife, Nora, of Bridgewater, and Megan Perry and her husband, Matthew, of Point Pleasant Beach; six grandchildren, twins Bryanna and Kaelyn Corbitt, Ava Bocchiaro, Madeline Corbitt, Daniel Dipierro, and Greyson Perry; brother, Dennis Corbitt, and his wife, Myra, of Westminster, MD; brother-in-law, James Fazzalaro, Jr. of Plantsville, CT; and many beloved nephews and nieces. His grandchildren were the joy and light of his life. He also leaves behind countless people who he influenced personally and professionally, from the friends of his kids to the young people just starting out in the business to his religious education students and adults at Most Holy Redeemer.
Visitation will be held at the Clayton & McGirr Funeral Home, 100 Elton-Adelphia Road (Route 524), Freehold Township, NJ on Tuesday, May 28, 2019 from 2:00 to 4:00 and 7:00 to 9:00 PM. Relatives and friends are invited to attend his 10:00 AM Funeral Mass on Wednesday, May 29, 2019 at Most Holy Redeemer Catholic Church, 133 Amboy Road, Matawan, NJ. Interment will follow in St. Gabriel's Cemetery & Chapel Mausoleum, Rt 520, Marlboro, NJ. For those who desire, memorial contributions may be made to Most Holy Redeemer Catholic Church (mhr-parish.org) at 133 Amboy Road, Matawan, NJ 07747 or STOMP the Monster (stompthemonster.org), Post Office Box 521, Marlboro, NJ 07746.
For information, directions or condolence messages to the family, visit www.claytonfuneralhome.com
Share Your Memory of
Patrick
Robert C. McGirr - Owner & Manager - N.J. License #3273