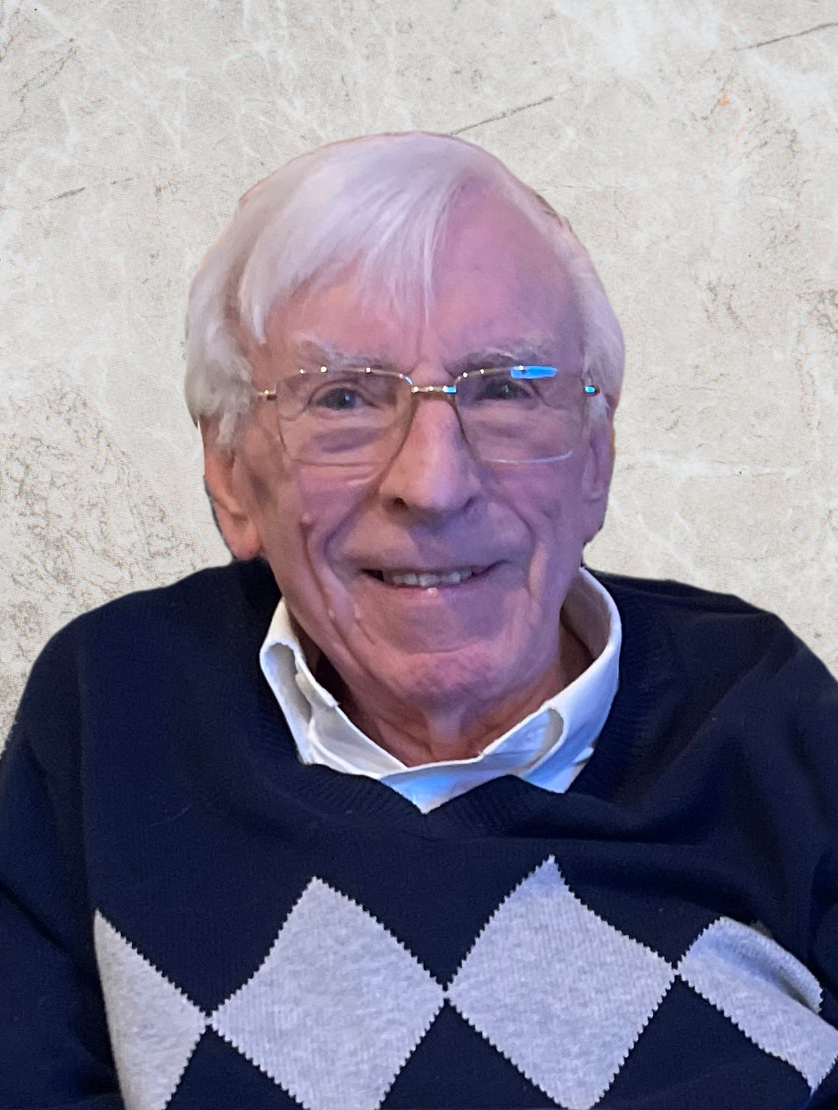 In Memory of
Bernard L. Kelly, Jr.
1932 - 2022
Obituary of Bernard L. Kelly, Jr.
Bernard L. Kelly, Jr., 90, of Brick passed away peacefully at home on Monday, December 5, 2022. Born and raised just off Prospect Park West in the Park Slope section of Brooklyn, "Whitey" as he was referred to as a kid on the baseball sandlots in Brooklyn due to his blonde hair (which would turn brown after high school), graduated from Brooklyn Prep High School in 1950 where he played baseball and ran track. Bernie, as he was known post-high school, went on to Fordham University in the ROTC program graduating in 1954 as a commissioned second lieutenant in the United States Army. After completing his service in the Army following stints in El Paso, TX and Germany, Bernie returned to Brooklyn to begin his career in sales at National Cash Register ("NCR") where he sold some of the first business computers. His big break came in 1964 when his best friend Charlie Mylod asked Bernie to serve as the best man in Charlie's wedding to the future Betty Mylod. Betty's maid of honor was Mary Ann Murray from Valentine Avenue in The Bronx, and after meeting the maid of honor Bernie went home to announce to his family that he had just met the girl he was going to marry. In November 1965 Bernie and Mary were married in a ceremony in The Bronx kicking off one of the great love stories of all time. Anyone lucky enough to meet Mary and Bernie knows they were rarely apart for the next 57+ years, and that Bernie worshipped Mary and she him. After marrying they eventually moved to the Port Richmond Center section of Staten Island, NY (not knowing any better, the boy from Brooklyn and the girl from The Bronx mistook Staten Island for the countryside), where they raised their five children, Andrew, Sean, Regina, BJ, and Timmy. In recent years they added their daughters-in-law Gina, Amy, Suzy and Stacy, and son-in-law David, telling friends and family that they had ten children in total (although there is some debate where Sean and BJ rank in the order), and eleven grandchildren, Brian, Matthew, Sean Jameson, Ryan, Lily, Liam, Shannon, Brandon, Sophia, Charlotte, and Amelia. Bernie, now known to all as Dad and Pa, was a voracious reader and a stout supporter of the Sea Girt Library, loved walking on the boardwalks of Manasquan and Spring Lake, taking Mary to the Irish Centre in Spring Lake, and spending time on the golf course with his sons where he was known for his fast pace of play and the "Bernie Kelly Pooch Shot" which could be played out of the sand with either a sand wedge or a hand wedge. Bernie had a special affinity for the University of Scranton often saying that he got five graduates and a daughter-in-law out of there, and Manasquan River Golf Club where he was not a member but was always treated like one.
Bernie's friends whose lives he touched and who touched his life are too innumerable to list. If you are reading this, you are one of them. And nothing compared to the time he spent with his "roommate" Mary, his "ten" children, and his eleven adoring grandchildren.
Bernie/Whitey/Dad/Pa is survived by his wife of 57 years, Mary Ann (nee Murray) Kelly; his children, Andrew and his wife, Gina of Brielle, Sean and his wife, Amy of Fairfax, VA, Regina Crosby and her husband, David Crosby of Lincroft, NJ, Bernard J. "BJ" and his wife, Suzy of Manhattan, and Timothy and his wife, Stacy of Dedham, MA; his eleven grandchildren, Brian, Matthew, Sean, Ryan, Lily, Liam, Shannon, Brandon, Sophia, Charlotte and Amelia; three sisters, Regina Ellen Baumann and her husband Gerry of Scituate, MA, Anne Dennehy and her husband, Fred of Cranbury, NJ, and Maureen Janeski and her husband Jim of Manhattan; and many, many loving nieces and nephews.
Visitation will be held at the Clayton & McGirr Funeral Home, 100 Elton-Adelphia Road (Route 524), Freehold Township on Friday, December 9, 2022 from 3:00 to 7:00 PM. Relatives and friends are invited to attend the Funeral Mass at St. Mark's Roman Catholic Church, 215 Crescent Parkway, Sea Girt, NJ on Saturday, December 10, 2022 at 9:30 AM, immediately followed by a repast at Manasquan River Golf Club, 843 Riverview Drive, Brielle, NJ. Interment will be private. In lieu of flowers, contributions in memory of Bernie may be made to God's Love We Deliver https://www.glwd.org. For more information, directions or to leave condolence messages to the family, visit www.claytonfuneralhome.com
To view the visitation room and flowers sent by family and friends, please click HERE.
Visitation
3:00 pm - 7:00 pm
Friday, December 9, 2022
Clayton & McGirr Funeral Home
100 Elton-Adelphia Road
Freehold, New Jersey, United States
(732) 462-8426

Get Directions
Mass
9:30 am
Saturday, December 10, 2022
St. Mark's Catholic Church
215 Crescent Parkway
Sea Girt, New Jersey, United States

Get Directions
Share Your Memory of
Bernard

Robert C. McGirr - Owner & Manager - N.J. License #3273