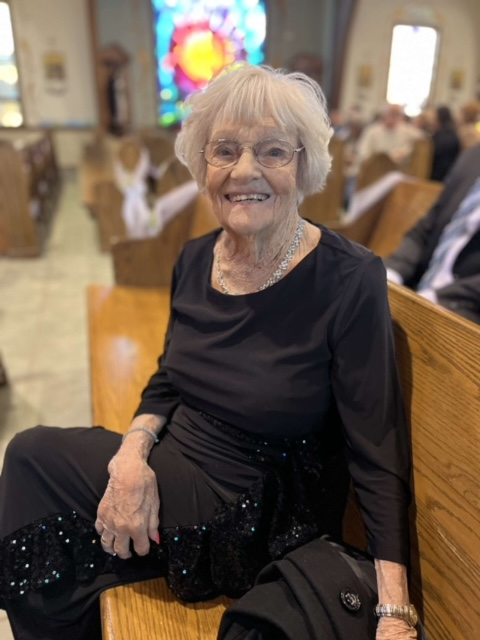 Obituary of Lucy Dugan
Lucy Dugan, 91, lifelong resident of Farmingdale, passed away on Thursday, April 6, 2023 at Brandywine, Howell. She was a lifelong parishioner of St. Catherine of Siena Catholic Church, Farmingdale. Lucy worked for over 25 years as Transportation Coordinator at Howell Township Senior Center. She was past president and lifetime member of Ardena PTA and president of the Rosary Altar Society. A true staple to her hometown, June 28th was dedicated "Lucy Dugan Day". Lucy embraced life with great joy, loved to travel, and was an avid bowler. At 80 years old, she became a dedicated member of St. Vincent De Paul. She loved her family dearly and was their rock, role model, and biggest cheerleader. Lucy was a friend to many and will be sadly missed. Her greatest legacy will be her loving family and she will live on within the hearts of all the many people she touched throughout her amazing life.
She was predeceased by her beloved husband, William "Don" Dugan; and two brothers, William Layton and Joseph Layton. Lucy is survived by her children, Glenn Dugan and his wife, Linda, Diane Masterson and her husband, John, Brian Dugan, and Lisa Corbett and her husband, Jeff all of Farmingdale; ten grandchildren, Stephanie Mascolo and her husband, Dominic, Scott Dugan, Kathleen Stashak and her husband, Adam, Erica Dugan, Brian Masterson and his wife, Gina, Lauren Masterson and her fiancé, Christian Belmonte, Erin Masterson, Kristen Candito and her husband, John, Kylie Corbett, and Justin Corbett; five great grandchildren, Gerard Mascolo, Rocco Mascolo, Sadie Stashak, Jack Masterson, and Ava Masterson; two brothers, James Russell Layton and Raymond E. Layton and his wife, Mary; lifelong friends, Danella Nagle and Ed Stilwell; and many loving nieces and nephews.
Visitation will be held at the Clayton & McGirr Funeral Home, 100 Elton-Adelphia Road (Route 524), Freehold Township on Monday, April 10, 2023 from 3:00 to 8:00 PM. Relatives and friends are invited to gather at 9:00 AM on Tuesday, April 11, 2023 at the Funeral Home for the procession to her 10:00 AM Funeral Mass at St. Catherine of Siena Catholic Church, 31 Asbury Road, Farmingdale. Interment will follow in St. Rose of Lima Cemetery, 299 Freehold-Englishtown Road, Freehold. In lieu of flowers, memorial contributions may be made to the Howell Senior Center, 251 Preventorium Road, Howell, NJ 07731. For information, directions, or to leave condolence messages to the family, please visit www.claytonfuneralhome.com